Maximize Your Business's Deposits
Perhaps no tool impacts your business's finances as much as your checking account. The right account offers an easily accessible place to deposit funds and the right financial tools and personal service to manage your money efficiently. Choose from either of our business checking accounts based on your company's needs.
Business Checking
---
Get access to the tools you need as a business owner in addition to a high-performing checking account! You can earn a credit to help offset monthly fees, and you receive access to Online Banking and our Merchant services to streamline how you manage your business's finances.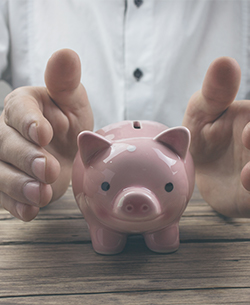 Transaction Fees:
Checks and Debit Items: $0.15 each
Deposited Items:
Home State Bank items: no charge
All others: $0.08 each
Maintenance fee: $4 per month; earnings credit will applied to offset parts of this fee
When you choose Business Checking for your business, you get access to additional services provided by our Business Bankers, such as an Annual Relationship Review, Stress Testing and more.
Business NOW Account
---
Our Business NOW account is ideal for sole proprietorships, non-profits, government organizations and certain fiduciary accounts. Your balances will earn a variable interest rate, with low fees and access to Merchant Services and Online Banking for your convenience.
Transaction Fees:
Checks and Debit Items: $0.15 each
Maintenance fee: $4 per month; monthly fee is waived if $1,000 daily balance or $2,500 average monthly collected balance is achieved.
As a Business NOW account holder, you can also take advantage of our Financial Analysis Tools.
Contact a Home State Bank Business Banker to see if our Business NOW account is the right solution for you!
Take advantage of our business debit cards, too!
---
Your business debit card can be used to make in-person and online purchases, as well as at ATMs to get cash or conduct other banking tasks. Your transactions are free when you use your debit card at Home State Bank or Cirrus Privileged Status ATMs.
Additionally, your debit card includes the Shazam Monitoring system to protect your card and checking account from fraud.
Brella®
---
Protect your money and enjoy enhanced account management capabilities with Brella! You can set up account alerts to prevent fraud and monitor your debit card activity closely. View the cardholder quick guide. Additionally, you can:
Send money to other Brella users
Block and unblock your debit card
Locate SHAZAM ATMs nationwide
And more!
Download Brella from iTunes or Google Play today for greater security and flexibility with your debit card!
No More Overdrafts! Ask your Business Banker about Cash Reserve today!