Achieve Your Business Goals!
What are your goals for your business? Whether you're looking to double sales or expand your workforce, we can develop a commercial loan package to help you achieve your goals.
Our commercial loan options can help you cover a wide range of costs, including property, equipment, inventory and operating expenses. Whatever your loan is for, you are guaranteed the best solution for your need and structured for your success delivered with top-notch service.
SBA Lending
---
As a community lender, we specialize in creative lending solutions for businesses from the Small Business Administration (SBA). SBA loans are an answer to more intricate or complex situations in which a traditional commercial loan may not have the required flexibility, or the business itself does not meet the requirements for a traditional commercial loan.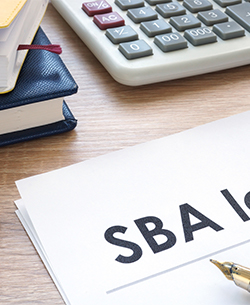 We specialize in both SBA Guaranteed Loans and SBA 504 Loans.
Guaranteed Loans provide the funds for a wide variety of expenses related to acquisition, operation or expansion of an existing business.
SBA 504 Loans provide financing for larger fixed assets like business equipment or commercial real estate.
We also provide assistance in filling out paperwork for SBA loans to ensure you get the financing you need. Get in touch with any of our business lenders today to learn more about SBA loans for your business.