Solutions for Life's Big Surprises
Life has a funny way of surprising you, and your savings account may not always have you covered. Whether your daughter gets engaged, your refrigerator bites the dust or you decide that next month is the time to take that vacation you've always dreamed of, we're here to help with a personal loan.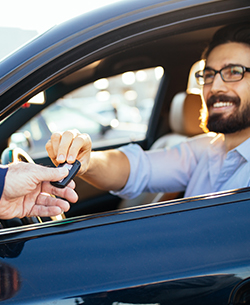 Our personal loans are beneficial in a number of ways:
Fulfill a financial need when other options (checking or savings accounts) aren't enough
Can be used for practically any need
Our lenders are experts in tailoring a personal loan to meet your needs and budget
Apply for a Personal Loan Today!
Call and make an appointment with a lender and discuss your unique personal lending needs.
Get in Your New Vehicle Today!
---
A dependable vehicle is no small investment. It has to get you to and from work, dropping your kids off at school and to all of your grandchildren's plays, recitals and games. Home State Bank offers flexible auto loans to ensure you get the car, truck or SUV you need for whatever your life requires!
Our Auto Loan Process
---
Come in and speak with one of our lenders to see how we can help you. We can give you a boost of confidence in the car buying process with our auto loan pre-approval. This allows you to shop for a new vehicle with the confidence that you are approved at a certain limit!
We Make Repaying Your Auto Loan Simple…and Rewarding!
---
First, we structure your loan to make it as easy as possible for you. We also help you setup an automatic payment from your checking account. That means you don't have to deal with writing checks, buying stamps or dealing with coupon books. You also get a rate reduction of 0.25% on your auto loan with an automatic payment set up.
Get started by contacting one of our lenders today to discuss your needs and work on getting pre-approved!
How Large of a Loan can You Afford?
---
Our Car Affordability Calculator helps you get a better look at how large of an auto loan you can afford. Simply enter the requested information to get a better idea of the maximum loan amount that fits your current financial situation.