Posted On: December 1, 2017 by Home State Bank in: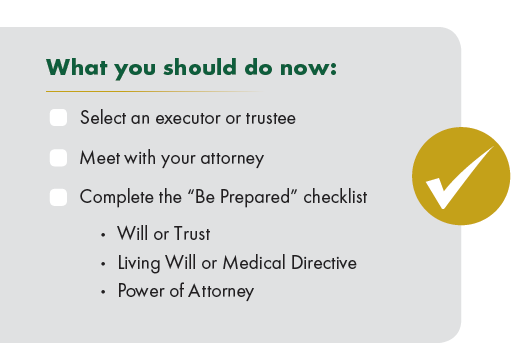 Being Prepared -- Important First Steps
By: Danille Curtis
Where do you start? This whole idea of making a plan seems a little overwhelming. Every situation is different and there is not a cookie cutter plan that fits everyone. So, where exactly do you begin? Here are some important first steps to get you started on your estate plan.
1. Select a qualified executor or trustee
This one decision is critical. You should make sure to choose an executor or trustee you feel confident can manage your assets. Do you have a large investment portfolio, farm land or other unique assets that may take expertise to manage? Would you prefer an executor outside the family to alleviate undue stress on your family? Home State Bank has filled this role for many families helping to preserve family harmony, and providing objectivity as well as investment and land management expertise for efficient transfer of assets.
2. Meet with your attorney
Now is the time to make sure details will be taken care of quickly and efficiently. When a will is probated it becomes public record. How important is it to you to keep this information private? Do you have a family member with special needs or under age beneficiaries that may not be able to manage their inheritance? Do you want to find ways to save on estate taxes? These are important questions your attorney can help find solutions for. An experienced estate planning attorney can customize your plan to meet your needs.
3. Get your important documents in order
There are several documents you should consider updating including financial power of attorney, healthcare power of attorney/living will and funeral arrangements. Beneficiaries should be reviewed on life insurance, annuities and retirement accounts. We have created a "Be Prepared" checklist that is very helpful in gathering appropriate information for your estate plan. Stop into Home State Bank and pick up your free copy.